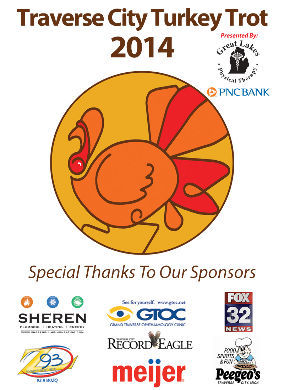 Come RUN Thanksgiving DAY!
9 AM Thursday, 11/28/13
Try either the 5K Turkey Trot Run/Walk or the 5M Flier
OR VOLUNTEER (Click HERE to Reg as a VOLUNTEER)!

The 5K Run/Walk will find you shoulder to shoulder with fun runners and families, and those ready for a bit of exercise prior to a Thanksgiving Celebration. Toddlers in strollers are FREE and encouraged to participate. Children running or walking must register. Strollers and dogs on a leash are welcome to join but need to start from the back of the group (Dogs are not allowed on Thirlby Field and will be re-routed at the Start/Finish).
NOTE: Any Participant running with a dog this year needs to start and end at the designated dog area. Participant with running / walking Dogs will not get an official time. Participants returning back to the designated dog area and who place will be awarded onsite with an award.

The 5M Flier creates the distance challenge but still routes through downtown and back to Thirlby Field Stadium.

PACKET PICK UP and ON SITE REGISTRATION :
WEDNESDAY NIGHT, 5:00 PM – 8:00 PM (North side of Thirlby Field)
THURSDAY, 7:00 AM - 8:30 AM (North side of Thirlby Field)
All activities happen at:
Thirlby Field Stadium
Traverse City, Michigan 49684
COST:
5K and 5M Adult Rate $35. $40 DAY OF and after 11/5/2013.
Student rate $15 prior to 11/5 and $20 DAY OF.
NEW for 2013:
"BREAK A GUINNESS WORLD RECORD!
This year, as part of the Guinness Gobbler World Record Challenge, our partners at BSX Athletics will be providing a complimentary training plan for all participants of the Up North Media Turkey Trot.
Register for this Event
Traverse City Turkey Trot for Charity 2013 Thursday November 28, 2013, 9:00 AM
Online registration is closed at this time.
Please direct further questions to the event promotor.
www.tcturkeytrot.com
WHERE: The race starts at Thirlby Field Stadium on 14th Street. Packet pick-up and pre-race will be at Thirlby Field as well. The 5K and 5M courses will run through downtown Traverse City. Participants receive a T-Shirt and fabulously stuffed Goody Sack, and enjoy fun entertainment along the route.

WHY: The event combines families, fun and fitness. Canned good donations St. Francis Food Pantry and Students in Transition Empowerment Program (STEP) food pantries. All event proceeds going to local Charities.
COST: 5M is $35 and 5K Adult (19 and up) cost is $35. Youth (running and wanting to be timed) $15. Note rate increase after midnight on 11/5/2013).

Race registrations will not be guaranteed a sized T-shirt after Thursday, November 15th!
AWARDS: 5k & 5M - Top 3 Overall M/F Finishers; Top Master M/F; Top M/F Age Group Finishers. Age groups are generally: up to 14, 15-19, 20-29, 30-39, 40-49, 50-59, 60-69, 70-79 and 80 or higher. Results will be posted during the event and on this web site.
All activities happen at:
Thirlby Field Stadium
Traverse City, Michigan 49684
PACKET PICK UP:
WEDNESDAY NIGHT, 5:00pm – 8:00pm (North side of Thirlby Field) & Thursday 7-8:30 AM
Up North Media organizes the 6th Annual Traverse City Downtown Turkey Trot, an event for Charities. Start and End running the field at Thirlby Field Stadium!