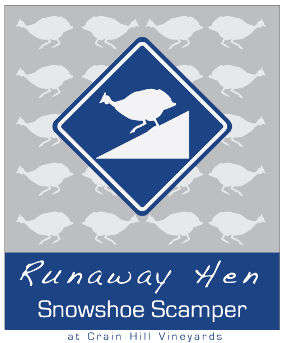 A 5km snowshoe race & non-competitive snowshoe stroll at Brengman Brothers Crain Hill Vineyards in Traverse City, MI
Saturday, February 1, 2014
Grab your snowshoes and enjoy a 5km race or non-competitive stroll through the scenic rolling hills of the Brengman Brothers Crain Hill Vineyards.
Visit www.enduranceevolution.com for more information.

Register for this Event
2014 Runaway Hen Snowshoe Scamper Saturday February 1, 2014, 12:00 PM
Online registration is closed at this time.
Please direct further questions to the event promotor.
http://www.enduranceevolution.com