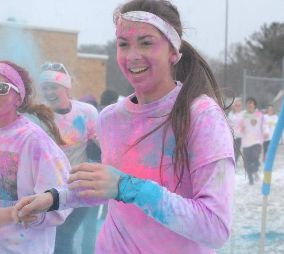 Spring Splatter 5K
Date: Saturday, April 25, 2015
Time: 9:00 AM
Location: Start and finish at Central High School 1150 Milliken Drive Traverse City, MI.
The Spring Splatter 5k is a race that benefits the Children's Advocacy Center of Traverse City. This is truly a unique race, with runners being covered in a powdered paint at each kilometer, ending with a craze of colors at the finish line. This is a fun run and racers will not be timed.
Packet Pick-Up on Friday, April 24, 2015 at TCC Cafeteria
1150 Milliken Drive from 4pm-7pm
Packet Pick-Up will also be available the day of the race, from 7:30 AM-9AM.
Register for this Event
We do take your t-shirt size. However, the size is not guaranteed, but everyone will recieve a shirt.