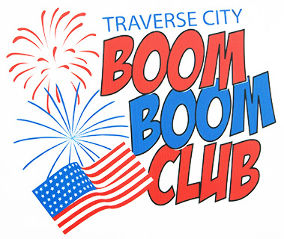 Traverse City Boom Boom Club
4th of July Fireworks Party 2019
Come join us at the Traverse City Boom Boom Club 4th of July Fireworks Party, located near the National Cherry Festival Beer Tent Entrance. The party will start at 8:30 p.m. and conclude after the fireworks at 11:00 p.m.

"Independence Day ought to be solemnized with pomp and parade, with shows, games, sports, bells, bonfires and illuminations, from one end of this continent to the other, from this time forward forever more." John Adams, July 1776
IMPORTANT INFORMATION REGARDING DONATIONS RECEIVED BETWEEN JUNE 26TH TO JULY 4TH, 2019.
All party tickets will be WILL CALL and can be picked up at our Welcome Booth the evening of July 4th.
The on-line donation portal will close at 12 noon on July 4, 2019. Party tickets will still be available at the TC Boom Boom Club Welcome Booth the evening of July 4th.
Register for this Event
4th of July Celebration 2019 Thursday July 4, 2019, 8:30 PM
Online registration is closed at this time.
Please direct further questions to the event promoter.
www.tcboomboom.org
Should you have any issues making a donation on line, please feel free to contact Byte Productions directly at mary@bytepro.net.
Tax Deductible Contributions
The Traverse City Boom Boom Club is a Michigan non-profit corporation exempt from taxation under section 501c3 of the IRS Code. All contributions are welcome, appreciated and tax deductible to the extent allowable by law.
For more information, contact Tim Hinkley, Event Promoter at 231-590-4503. To mail a donation check, send your check to: The Boom Boom Club, P.O. Box 4033, Traverse City, Michigan 49685.
Join the Club!
You will feel an extra special patriotic stirring as you watch the beautiful fireworks display over West Bay knowing that you contributed to this occasion.