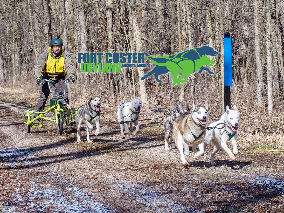 MUSH Fort Custer Spring Dryland
April 6 & 7, 2019
5163 Fort Custer Drive, Augusta MI 49012
Fort Custer Recreation Area
Sponsored by and goverend under Mid Union Sled Haulers (MUSH)
midunionsledhaulers.com
This is a two-day race. By paying the entry fee, you are signing up for both days.
Drivers meeting is at 9 a.m. Eastern, site #219 on Saturday, April 6th. ALL PARTICIPANTS MUST ATTEND.
Michigan State Park Passport required for park access.
Potluck both days! Please Bring a dish to pass! Hot dogs and sloppy Joes provided.
In addition to this online entry, please read all rules and info as printed on the official PDF entry form availble at midunionsledhaulers.com
This race is beginner friendly! Minimal prior experience required. This is a learning event. Please supply your own equipment. If you need equipment, ask us who we recommend, and we'd be happy to help.
Order of classes listed on entry website is NOT the order in which the classes will be run. Class order and times will be announced at drivers meeting.

ONLINE ENTRY DEADLNE: April 4th at 6 p.m. Eastern. (Entries will be accepted at the race between 7:45-8:30 a.m., April 6th SHARP for an addtional fee. See Entry Chair directly before 8:30 a.m.)

Required Equipment Basics:
Each dog must have collar and appropriate harness.
Necklines required on all but single leaders.
No pinch/choke collars or muzzles.
Bungee line required in bike, scooter, and canicross.
Helmets required in wheeled classes.
Belt required for canix.
All bikes, scooters, rigs must have adequate brakes. Bike brakes must be independent of chain.
Snub line required for rig teams.
Additional rules can be found at midunionsledhaulers.com
For any equipment questions, please email hammond.annie@gmail.com
MUSH is amateur in nature, emphasizing sportsmanship, fun, and family participation.
Register for this Event
Fort Custer Spring Dryland 2019 Saturday April 6, 2019, 9:00 AM
Please select a stage:
| Stage Name | Date | Description | Price |
| --- | --- | --- | --- |
| | 04/06/19 | | |
| | 04/06/19 | | |
| | 04/06/19 | | |
| | 04/06/19 | | |
| | 04/06/19 | | |
| | 04/06/19 | | |
| | 04/06/19 | | |
| | 04/06/19 | | |
| | 04/06/19 | | |
Race Chairperson, Annie Hammond, email: hammond.annie@gmail.com or text 517-348-2737
Chief Timer and Entry Chair, Robin Clark, emaill: snobizclark@comcast.net